Welcome back to my Bryn Mawr Blog. This is Jacqueline. I want to share several routines that I go through on a typical school day at Bryn Mawr College. I began to establish my daily routine in the summer last year. I was spending almost all my time at home and felt that time flew and I was gradually losing control of my life. Having certain things done every single day gives me back some sense of control.
Morning Routine
The purpose of my morning routine is to start the day with a steady mood. Before I establish this morning routine, the first thing I used to do after I got up was that I checked my phone and watched some news, which often let down my mood and also let down my whole day. But I don't want the news to determine how my day will be. I need to take back that control.
Atomic Habits by James Clear is an excellent book on habits and it says that when you are starting a new habit, you need to set the bar low. It has to be so simple that you can't find a reason not to do it. My new habit is to meditate every day and how I make it simple is to mediate for one minute.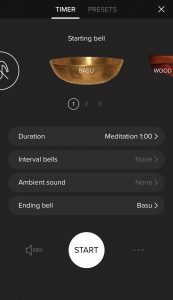 The principle behind reading one page is the same for mediating for one minute. I originally thought that it has to be something outside school but since the material is interesting and I have too much reading to do, it can be reading from one of the classes.
Talk to mom while having breakfast
This is the morning for academic semester. Since I anticipate that I have difficulty getting up, I set it to be extremely simple. The morning routine when I'm on break is a lot more complicated. Then I talk to mom and have breakfast. My mom is at home in China and we have 12 or 13 hours time difference, so we can either talk early in the morning or late at night. Talking at night, which means morning or noon on her side, depends on her work schedule. Since I don't have early classes during the semester and I need one more motivation to get up early, I'd rather talk in the morning, which means evening for her.
Evening Routine
The purpose of the evening routine is to prepare my body and mind for getting to bed. Through doing certain things, I let my body know that whatever happened in the day happened but it's now time to go to bed and prepare for the next day.
Finish studying at 10:30 or 11:00
My aim is to get to bed between 11:30 to 12:00 so I need some time for the transition.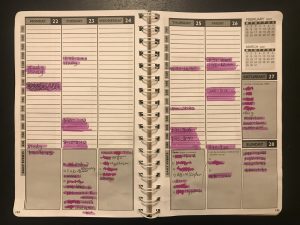 The purpose and principle is the same with the one in the morning.
I don't do free-writing in the journal because it's difficult for me to persist. I answer a few questions, such as "how effective was I today?", "what am I grateful for today?", "what do I need to let go of?". Some other items that I might not attend to everyday are "the moment I showed resilience today" and "the moment I observed characteristics of a potential manager."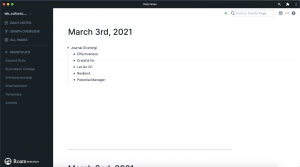 The book Atomic Habits also talks about having an immediate reward for completing a habit and the immediate reward I choose is stickers. Every time I finish mediating or reading, I put up a sticker and put it on the calendar and I feel pleased and satisfied. It works for kindergarten children and it works for me too.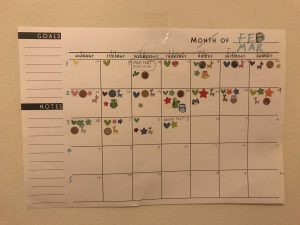 Academic life at Bryn Mawr is demanding, which motivated me to choose it to spend four year of college, but it could also get challenging sometimes. Thus, I need these routines to get me in the condition where I'm both physically and mentally prepared for the rigorous study at Bryn Mawr.